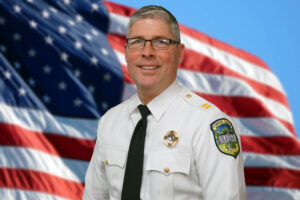 Captain Anthony Vaughn, Commanding Officer of the Uniform Patrol Division, is a 23 year veteran of the Upper Darby Police Department. He joined the ranks in January 1998. He attended the Pennsylvania State Police Academy (municipal class).
Captain Vaughn worked as a patrolman from 1998-2005. With his promotion to Sergeant in 2005, he worked as a Street Sergeant until 2017. In January 2017, Anthony joined the Administration Division. While working in Administration, Anthony acted as the Safe Schools Coordinator, conducting all lockdown drills inside the township. With his promotion to Lieutenant in 2019, Anthony was assigned to Training and Professional Standards. On January 6, 2021, Anthony was promoted to Captain and assigned to the Patrol Division.
In 2018 Captain Vaughn was recognized by the Delaware County Council and Holcombe Group for outstanding work in opioid prevention and education. In 2019, Captain Vaughn received the Marine Corps Officer of the Year award.
Captain Vaughn is committed to increase the quality of life for all citizens of Upper Darby Township with honor and integrity through high quality of services.