Upper Darby Police Department Divisions
---
Office of the Superintendent
The Office of the Superintendent is responsible for the planning, administration, and coordination of all departmental activities. The office maintains the focus of the Upper Darby Police Department in achieving the goals and visions the agency has been challenged to meet. The areas that function within the Office of the Superintendent includes personnel, finance, training, as well as research and development.
Contact the Office of the Superintendent at: 610-734-7686.
Patrol Operations
This area is responsible for Patrol, K9, the Mountain Bike Unit, traffic enforcement, Motorcycle Highway Patrol, Honor Guard, SWAT, and Hostage Crisis Negotiations. Patrol Operations encompass the largest unit within the Upper Darby Police Department. New units have been introduced and strategies implemented to meet the ever-increasing demands and challenges that present themselves to the department.
Contact the Patrol Division at: 610-734-7693.
If you have an emergency, call 9-1-1
Investigation Division
The Investigations Division is responsible for the investigation of crime and the arrest of offenders. As part of the general operation, this unit collects and processes evidence, interviews witnesses and suspects, and supports other units within the Upper Darby Police Department when requested. A polygraph examiner is also on staff. Assigned to this division is a court clerk and evidence technician.
Contact the Investigations Division at: 610-734-7684
If you have an emergency, call 9-1-1
Narcotics Division
Formed to combat the illegal drug epidemic in our Township, the Narcotics Division is comprised of undercover officers who investigate and arrest those responsible for the use and sale of illegal drugs. These officers interact with other law enforcement agencies in an effort to arrest and prosecute criminals who operate across multiple jurisdictions. The division also employs a Tactical Narcotics Team, which addresses quality of life issues, and interact with other Township agencies, such as the Health Department.
Contact the Narcotics Division at: 610-734-7676
Administrative Division
The Administration Division deals primarily with the business aspect of policing. Areas that are addressed by this division include fleet services, information technology, police record management, and administration of a civilian workforce.
Contact the Administration Division at: 610-734-7686
Training and Professional Standards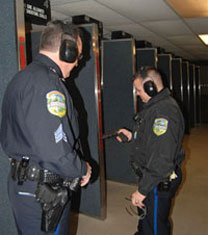 As law enforcement professionals are met with more complex demands, the need to train officers becomes a critical facet for any department. Mandates are placed on officers annually at a state and national level. The Training Division ensures that all officers meet the educational and tactical criteria set by various organizations.
Additionally, the Office of Professional Standards ensures that officers apply this training in a responsible and ethical manner. All policies are written and disseminated through Training and Professional Standards.
Contact the Training and OPS Division at: 610-734-7672