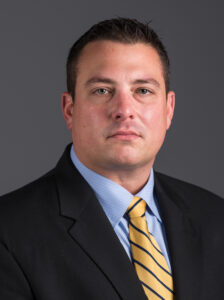 Captain Lanni knew from a young age that he wanted to serve in the military and become a police officer. In fact, he only wanted to be an Upper Darby Police Officer, which is why it was the only test for which he registered. He wasted no time, enlisting in the Marine Corps Reserve at 17, and joining the Upper Darby Township Police Department at just 22.
His tenure, which began in May 2002, has been diverse. His experience includes assignments as a police officer, supervisor, and commanding officer with the Patrol Division, the Emergency Response Unit, the Mountain Bike and Traffic Unit, the Narcotics Unit, Detectives, the County's Major Incident Response Team, and the 5-County Response Team, focused on combating terrorism.
In addition to his formal assignments, Captain Lanni has enjoyed the opportunity to work with various endeavors such as the Township's DEFY (anti-drug) program, the Youth Aid program, and the Fifth Grade mentoring program. He also spent a considerable amount of time working with the Upper Darby school system.
Captain Lanni is most proud of the work he performed as a mountain bicycle officer and as a detective assigned to work with "special victims". In both roles, he had the opportunity to be more engaged with the community, thus getting a first-hand view of the difference one can make as a professional in law enforcment.
Currently the Commanding Officer of the Detective Division, Captain Lanni oversees Detectives, Special Investigations, Narcotics, and the courts. A lucky husband and a proud father, his family is the center of his life.