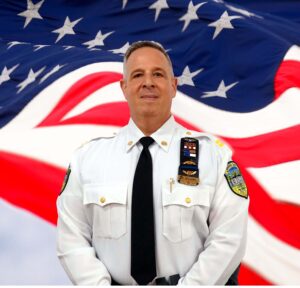 Captain Michael Williams, a law enforcement officer with 27 years of police experience, began his career with the Upper Darby Police Department in 2002. Through the years, Captain Williams has served on the Highway Patrol Unit, Investigations Division, ESU Team, and also as a Field Training Officer. Throughout his career in Upper Darby, he has received numerous awards and commendations including Heroism and the Marine Corps Officer of the Year award.
While a Sergeant of the Investigations Division, Captain Williams was tasked with creating a solution for outstanding criminal warrants. He utilized non-traditional techniques to bring wanted subjects to justice in a safe fashion without risk of injury to the public or fellow officers. This successful program was coined Peaceful Resolutions.
Additionally, while serving in this role he observed the ever-changing needs and necessities involved with current day policing and wanted to enhance his professional development. He was accepted to Neumann University where he earned his Bachelor of Science degree in Public Safety Leadership, graduating in 2019. Captain Williams continues to expand his professional expertise and most recently completed the 2nd block of the FBI-LEEDA Leadership Trilogy.
Captain Williams is now assigned as the Commanding Officer of the Patrol Division. He is dedicated to a community policing approach; striving to promote problem solving strategies and community partnerships that proactively address community issues.
Captain Williams was born and raised in this community. He is a graduate of Monsignor High School and graduated from the Delaware County Police Academy. He currently resides in the Drexel Hill section of the Township and takes pride in keeping his community safe.