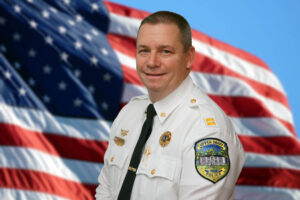 Captain Stephen Oreskovich, Commanding Officer of the Police Administration Division and Emergency Service Unit is a 16-year veteran of the Upper Darby Police Department. He joined the ranks in 2005 after graduating in the top of his class from the Delaware County Municipal Police Academy. Captain Oreskovich previously worked in Emergency Medical Services (EMS) as a certified Paramedic and continues to hold numerous certifications and instructor certifications related to the field. One of his biggest highlights from his career in EMS was being selected to the United States Presidential Protection Detail in 2003.
Captain Oreskovich spent his entire career in the Patrol Division and has served on the Highway Patrol Unit and SWAT Team. He previously served on the Anti-Graffiti Unit and is also one of the department's First Aid and CPR instructors. He also participates in the 5th Grade Mentoring Program. In 2013, he was promoted to Sergeant and was a patrol supervisor in the 2nd Patrol Platoon and then the 3rd Patrol Platoon. In 2018, he was promoted to Lieutenant and assigned as Commanding Officer of the 4th Patrol Platoon. In 2021, he was promoted to Captain.
Captain Oreskovich's work has been recognized during his tenure with the department. He has received department commendations for Valor, Bravery, Merit, Unit Citations, numerous commendatory letters and a two-time recipient of the Mayor's Award of Excellence. In 2019 he was the recipient of the National Liberty Museum's Award of Valor, with other officers, for rescuing citizens trapped in rising flash flood waters.
Captain Oreskovich has always had an active role in his community. He is a graduate of Monsignor Bonner High School. He was involved in many school sponsored community service activities. Also, while a student at Bonner, he joined his local volunteer fire company, which heightened his interest in EMS. He is entering his 30th year in Emergency Services. He has coached in Upper Darby's PAL as well as Drexel Hill Little League, Llanerch fall ball and UDHL. Captain Oreskovich is also a member of St. Bernadette's Parish where he has coached CYO baseball and taught CCD/PREP. He also serves on the Pastoral Council and as an Extraordinary Minister.